Valuing a Dogbite Claim. The aim behind a dog bite claim, just like any personal injury claim, is to put you back in the position you were in prior to the incident. Obviously, it is not possible to turn back time to prevent the incident from happening nor is it possible to simply wave a cheque-book over your injuries and take away your pain and suffering.
The purpose of a claim for compensation is to put a monetary value on your pain and suffering and your associated losses.
So how do we put a price on pain and the reduction in your overall health and well-being?
Any claim for personal injury will seek to recover compensation for pain, suffering, and loss of amenity (PSLA). Loss of amenity is effectively the loss of enjoyment of life during your period of recovery.
Valuing a Dogbite Claim
To determine the full extent of your injuries your solicitor will, either upon receipt of an admission of liability or in the run-up to the issue of proceedings, obtain a medical report. This will be provided by an independent medical expert.
The expert will produce a report based upon a review of your medical records and an examination of your injuries to include any scarring and/or mental trauma arising from the incident.  Additional reports will be obtained from other experts as required.
Once all necessary reports have been obtained, your solicitor will use these to value your injuries with reference to case law involving Claimants with similar injuries and also the Judicial College Guidelines (JCG). The JCG sets out injuries with differing severity with an indication of the band of compensation into which an injury may fall.  This guide is used by both solicitors for both claimants and defendants, and also by judges
Financial losses
In addition to the claim for your PSLA, your solicitor will also look to recover all and any financial losses or costs that have been incurred as a result of the incident. This can include lost income, damage to clothing, as well as the need for any form of treatment required as a result of the injury. In addition, if there is obvious scarring, the cost of cover-up cream and if so required, plastic restorative surgery.
The valuation of a dog bite can be particularly complex as it is more likely to result in some form of psychological trauma that would occur if the injuries had been sustained by for example tripping over a raised paving stone. Again, the occupation of the claimant can have a bearing: a delivery person is more likely to encounter dogs than an office worker, and therefore mental trauma brought about by a dog bite is likely to impact to a greater level.
To ensure that you receive the maximum and appropriate level of compensation you should instruct Solicitors who have the knowledge, experience, and expertise to not only prove that the incident was caused by the negligence of the dog owner but also, to ensure that you receive every penny to which you are entitled.
Get the help you need
For the expert help and advice you need, contact Mike Massen at Cohen Cramer Solicitors:
Call: 0113 224 7851 (0779 381 2361 eve and w/ends)
Fill in the contact form on this page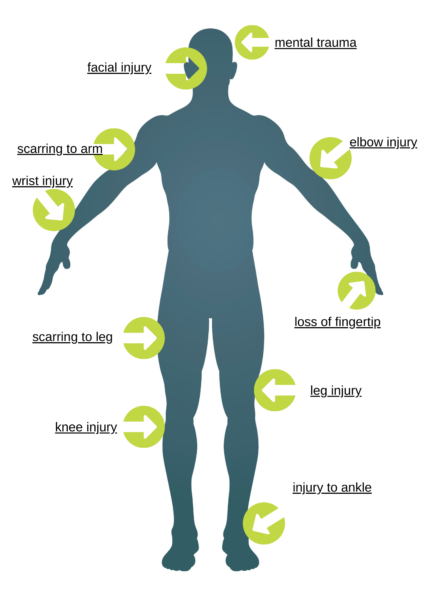 Click the image to go to our compensation display image